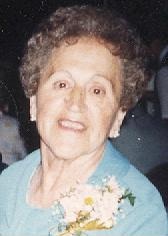 Date of Passing:
April 5, 2012
Keenan, Pearl, I., (Chartier), 94, formerly of Magnolia Street, died peacefully on April 5, 2012 surrounded by her loving family. A native Rhode Islander, Pearl was born and raised in Pawtucket and later lived in Barrington and Rumford before she came to stay at St. Antoine's Home in N. Smithfield.
She was the daughter of the late Napoleon Chartier and Alice Hill.
Pearl was the oldest of ten children and was the loving sibling to two sisters she lost in childhood, the late Loretta Chartier and Yvonne Chartier. She was the sister of the late Dorothy Silva, Rita Matthews, Doris Hallock, Thelma Jackson and her brother; Dona N. Chartier. She is survived by her brother; Earl F. Chartier of Pawtucket and Paul D. Chartier of Texas, as well as many beloved nieces and nephews.
Pearl was the sincerely devoted wife of nearly 60 years to the late PFC Charles J. Keenan. Charles spent his career at Rhode Island Cardboard. Together they had 4 sons. Pearl adored children and made her family her life's work. While she mourned the loss of her oldest, Robert F. Keenan who died as an infant, she was eternally thankful for her three surviving sons; Donald J. Keenan and his wife Phyllis V. (Bessette) Keenan of Barrington, Neil F. Keenan and his wife Sonja of Bulgaria and Brian J. Keenan and his wife Eileen (Donahue) Keenan of Warwick.
Pearl, who chose Catholicism at 19, enjoyed the blessing of 10 grandchildren and 13 great grandchildren. Pearl considered many close friends dear to her heart.
Her funeral will be held on Tuesday April 10, 2012 from the W. RAYMOND WATSON FUNERAL HOME, 350 Willett Avenue, Riverside at 8:45 am with a Mass of Christian Burial in St. Luke Church, Washington Road, Barrington at 10 am. Calling hours will be held on Monday 4-7 pm.
She will be laid to rest alongside her husband at Gate of Heaven Cemetery in East Providence. In lieu of flowers, donations can be made to St. Antoine's Home, 10 Rhodes Avenue, N. Smithfield, RI, 02896 would be deeply appreciated.