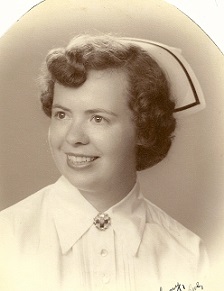 Date of Passing:
January 9, 2014
OConnor, Priscilla, M., (Clark), 86, of Elinora Street, Riverside, died peacefully on January 9, 2014 surrounded by her loving family. She was the beloved wife of the late John M. OConnor.
Born in Quincy, MA, a daughter of the late Ernest and Myrtle (Beateay) Clark, she lived in Riverside for 83 years.
Mrs. OConnor was a Registered Nurse for the Providence District Nursing Association for 4 years retiring in 1953.
Priscilla was a trustee of the Riverside Congregational Church. She was a former Girl Scout leader for the Riverside Girl Scout Troop #8 and a Cup Scout leader for the Riverside Cub Scout Troop #2.
Mrs. OConnor was a graduate of the Rhode Island State College receiving a nursing degree in 1950. She enjoyed gardening, fishing and horseback riding.
She is survived by a daughter; Deborah A. Adams of Riverside, two sons; David J. OConnor of Riverside and Donald M. OConnor of Riverside, a twin sister; Barbara Rose of Randolph, NJ, nine grandchildren and one great grandson. She was the sister of the late Edward Clark.
Calling hours will be held on Monday January 13, 2014 in the W. RAYMOND WATSON FUNERAL HOME, 350 Willett Avenue, Riverside from 4-7 pm.