Raymond C. "Stogie" Duggan Jr.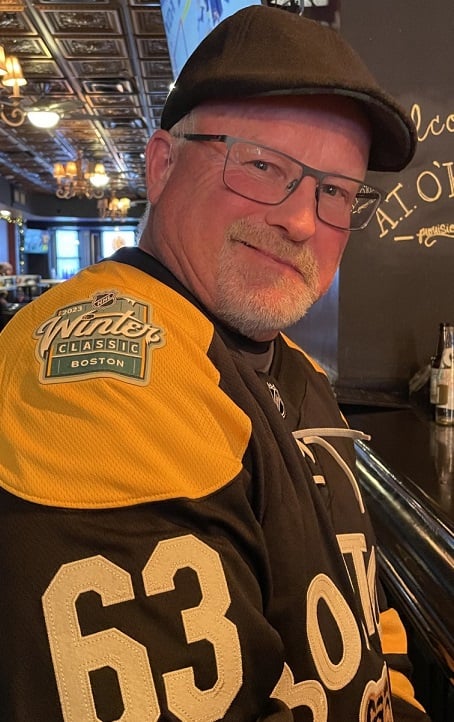 Date of Passing:
July 1, 2023
Duggan Jr, Raymond C "Stogie", 64, of Berkley, MA died on Saturday, July 1, 2023 at Rhode Island Hospital after a brief illness surrounded by his family. He was the beloved husband of Lori (Kulpa) Duggan.
Born in La Chapelle St Mesmin, France, the son of Raymond Duggan of Warwick and the late Barbara (Leonard) Duggan. He lived in Riverside for most of his life before moving to Berkley, MA 28 years ago. Ray was a graduate of East Providence High School, RI College and Northeastern University.
Ray had many jobs in the medical industry over the years including Abbey Medical and Glasrock Home Medical, where he met his wife, Lori. He was employed with AKSM/ UMS as a lithotripsy technician in which he operated a mobile kidney stone crushing unit at the time of his death. This job took him to Charlton Memorial Hospital, St. Luke's Hospital, Morton Hospital, South County Hospital, and a few hospitals in Maine. He is most known for his work at both Charlton Memorial Hospital, Fall River and St. Luke's Hospital, New Bedford where he worked for over 25 years as an x-ray technician. When people would ask what he does for work he would say he's "X-ray Ray".
Ray loved to be busy, he really enjoyed skiing and hiking and would think nothing of getting up at 4 am to drive to New Hampshire to ski for the day, at least 30 runs, before heading back home that night. He also played softball for many years with the Brewers of East Providence and Double L in Scituate. He also played tennis while at RI College and was captain of the tennis team. He was a big New England sports fan, but especially the Bruins were the team he really enjoyed watching. In the last year he just started to play pickle ball and was excited to start something new.
He was also a lover of music. He enjoyed attending concerts and refused to get rid of his IPOD, on which he was constantly updating with music both old and new. He also enjoyed history his biggest thrill was when he visited Stonehenge 4 years ago with his family. He was so excited to "walk" in the path of history.
Besides his wife of 29 years, he is survived by his son, Ian Duggan and daughter, Madisyn Duggan, both of Berkley, MA. He is also survived by his brother, Steven Duggan of Riverside, RI. His in-laws, Michael Kulpa, of Georgia, Pattey Wright of Colorado, and Richard Kulpa of Florida. HIs nieces and nephews, Vanessa Bellfield, Alexandra Kulpa, Kyle Kulpa, William Duggan, Kyle Duggan, Kelsie Marchetti and Branden Bellfield. As well as many aunts, uncles, and cousins.
Relatives and Friends are invited to attend Calling Hours on Thursday July 6, 2023 in the W. RAYMOND WATSON FUNERAL HOME,350 Willett Avenue, Riverside from 4-7 p.m. A private burial will be held in Notre Dame Cemetery, Stafford Road, Fall River.
In lieu of flowers, we ask donations be made to caringbridge.org.