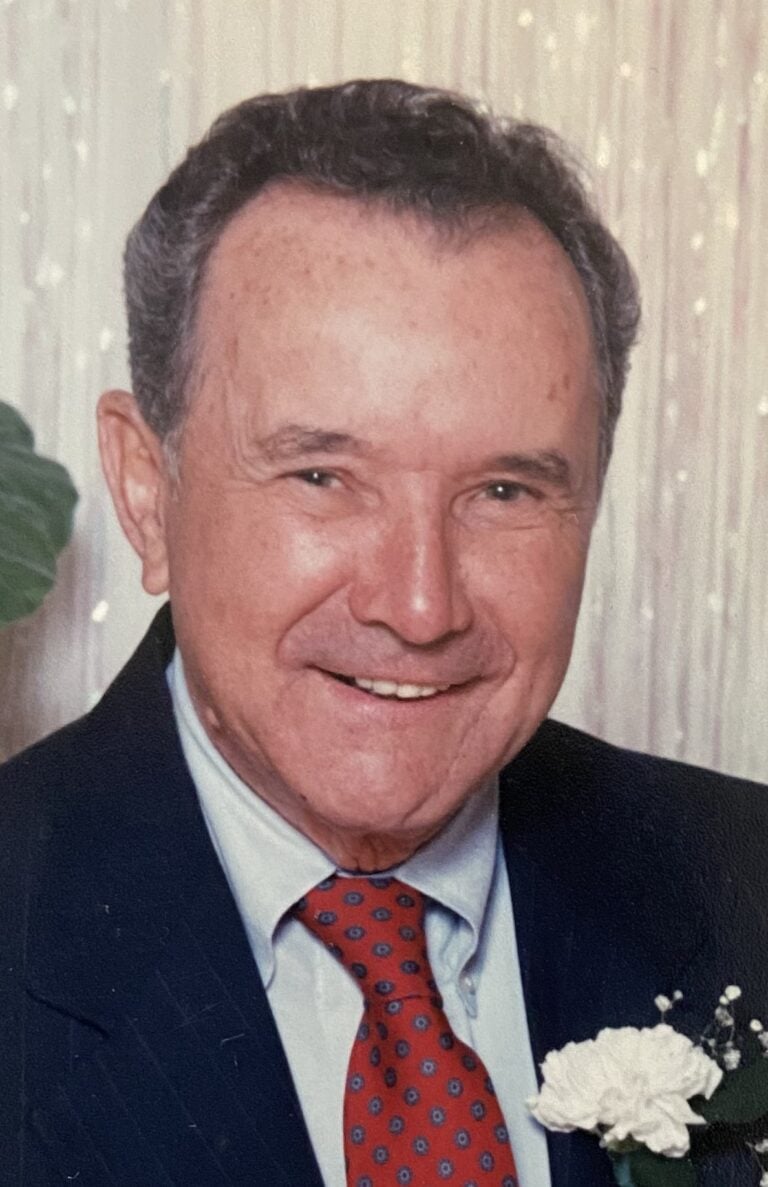 Date of Passing:
October 1, 2022
Raymond J. Sanders
October 17, 1927 to October 1, 2022
94 Years Old
Born in Riverside, RI to Nellie (English) and Matthew F. Sanders, he is the son of a railroad engineer and a loving mother. Raymond was one of six boys. His five brothers were John, William, Donald, Jerry and Edward. All of whom predeceased their middle brother. A child of the depression Ray grew up Riverside. He attended public school, participated in sports, worked at the Crescent Park Pony Barn and attended St Brendan's . He was elected the 1937 Riverside Boys Club "Boy of the Year." He loved Narragansett Bay and was an accomplished waterman. He is a World War II Veteran and served as a US Navy Motor Mechanic in the Pacific Theater from 1945 to 1947. In 1949 he courted and married Carolyn Leach of Riverside, whom he had his eye on since the fifth grade. Mr. & Mrs. Sanders were married for 59 years until her death in 2009. Ray served successfully as the president of Leach Refractories Company and R.J. Sanders, Inc. both of East Providence, RI. Raymond is a 1981 graduate of The University of RI and was a long-time seasonal resident of Freedom, NH. He is a past President of Seggregansett Country Club in Dighton, MA, and a past member of the Board of Directors of Wannamoisett Country Club in Rumford, RI. He was a member of the Country Club of Brunswick, GA and had close ties to the communities of Brunswick and St Simons Island.
He is survived by his three children: Jeffery R. Sanders and his wife Tina, David F. Sanders and his wife Maureen, Carrie Rae Sanders Cetenich and her husband Steven, all of Seekonk, MA.
He is survived by eleven grandchildren: Christie Connell, Casey Oliver, Amy Eddy, Steven Patrick Cetenich, Meaghan Dennelle, Jennifer Sherry, Matthew Sanders, Jeffrey Sanders Jr., Mary Kate Burnes, Michael Sanders, and Emmalee Sanders.
He is survived by sixteen great-grandchildren; Caroline, Madison, Riley, Aidan, Jake, Jack, Bentley, Tyler, Ben, Arden, Josey, Paisley, Lila, Charlie, Colin and Ophelia, and baby Jane on the way.
He is survived by eight nieces and nephews; Donna, Paul, John, Cheryl, Cindy, Matthew, Peter and Stephanie.
His life stands as an example of hard work, self-discipline and service to others. He was the patriarch of his family, a community leader, a believer in the faith and a true friend. He accepted responsibility and did his job. His life exemplifies the time in America in which he lived. He rose above humble beginnings, served his country, achieved success and never forgot who he was. He loved America and was proud to be a member of its Greatest Generation.
His Funeral will be held on Saturday October 8, 2022 from the W. RAYMOND WATSON FUNERAL HOME, 350 Willett Avenue, Riverside at 8 a.m. with a Mass of Christian Burial in St. Margaret Catholic Church, 1081 Pawtucket Avenue, Rumford at 9:30 a.m. Burial will follow in Gate of Heaven Cemetery, Wampanoag Trail, East Providence.
Calling Hours are Friday from 4-7 p.m. Immediately following the interment, the Sanders family cordially invites you to attend a reception at Wannamoisett Country Club, 96 Hoit Avenue, Rumford.