Raymond Jude Germershausen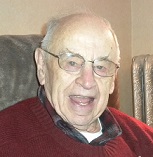 Date of Passing:
September 13, 2016
GERMERSHAUSEN: Raymond Jude, 92 of Barrington died peacefully at home on September 13, 2016 home and was called home to the Lord. Ray was the beloved husband of the late Elizabeth 'Betty' McCann, and, together, they created a wonderful, loving home for their children, Regina and Mary.
A proud 'Townie', Ray was the son of the late Percy S. and Margaret (Clark) Germershausen. According to his mother, Margaret, he was the most beautiful baby ever. And those words set the tone for his life. He and his late brother Stuart have fond memories of living with their parents on North Broadway and later on John Street. He attended Sacred Heart School and always shared his many cherished memories. Growing up in the Depression, Ray started working at the age of twelve; he sold newspapers at Six Corners before he went to school at Sacred Heart School. As a high school student at East Providence High School, he worked at Viall's Dairy and delivered milk to the many homes in and around North Broadway before he started his school day. The day after graduation from high school, he left for basic training at Camp Benson in upstate New York. Life then took him to the South Pacific during World War II on board the USS Miami CL89.
Upon returning from World War II, he was so proud to join the East Providence Fire Department where he eventually assumed the role of Assistant Superintendent of Fire Alarm. He took pride in his role as a fireman and knew the location of every street in the City of East Providence, Rumford and Riverside. In the 1950's, he worked with Fire Chief John Laughlin for whom he had tremendous respect. It was through their friendship that he met the love of his life, Elizabeth McCann. They were married on May 26, 1956 at St. Margaret's Church in Rumford and started their life together at 37 Chauncey Avenue in Rumford. Together, they created a beautiful marriage based on love and many laughs. What a wonderful childhood they created for their daughters, Regina and Mary. From camping trips to an ice skating rink built by Ray in the backyard, it was an unforgettable time for the Germershausen Family. Later, he built a treehouse for Regina and Mary, and what fun they had. Ray and Betty were proud parishioners of St. Margaret's Church and genuinely cherished their many friendships with neighbors and fellow parishioners.
In 1967, he joined Local 99 of the International Brotherhood of Electrical Workers where he served on the Examining Board and numerous other committees. Ray thrived in the construction industry and took the greatest pride in his contribution as a master electrician. Some of the many buildings he worked on include the Library at Providence College; Roger Williams Medical Center Emergency Room; and the now-closed Narragansett Brewery. Upon his retirement in 1987, he was a Charter member of the IBEW Local 99 Retirees Club and held the office of President for 20 years. Ray was the catalyst in starting the Retirees Club. When he retired, he realized the importance of staying connected with his fellow Brothers in the Union. It was his unwavering determination and zest for life that resulted in an organized network of retired Union Brothers and their wives. Ray and Betty were the 'movers and shakers' and organized a variety of activities from local day trips to an excursion to Alaska and, later, a ten-day tour of Ireland. In collaboration with Conway Tours, their meticulous planning resulted in countless memories for the members of the Retirees Club. Betty's flawless attention to detail ensured every aspect of each trip was nothing short of perfect, and she organized every detail with a pen and a notebook.
Retirement for Ray meant he could devote more time to one of his deepest concerns: the plight of the working man. He spent countless hours writing letters to political leaders and speaking at the State House before legislators urging them to make the best decisions for senior citizens in terms of affordable health care. As one of two representatives from Rhode Island, he travelled to Washington, DC to advance the goal of providing senior citizens with affordable healthcare. His humble beginnings and true grit propelled him to make a difference in the lives of other senior citizens.
Retirement also meant that he and Betty enjoyed many Saturday afternoons at the Providence Performing Arts Center. After enjoying an afternoon matinee they would venture to St. Joseph's Church in Fox Point for Mass. Following Mass, they would enjoy a bite out. What fun they had!
With his upbeat personality, he genuinely enjoyed meeting people and making new friends. He Loved Life! When he walked into a room, the room light up. We all know, however, his favorite place to be was the golf course. It never rained nor snowed on the golf course. And, it was never too cold on the golf course. He enjoyed his game of golf and participated in numerous golf tournaments. Most recently, he played with the St. Luke's Church League. Just weeks ago, he played golf at Silver Spring Golf Course in East Providence. Then, of course, a game of cribbage at the East Providence Senior Center and the German Club in Warren were favorite nights out for Ray. At the age of 88, he joined the Wire and Fires Club in Portsmouth, and what a proud member he was. He and Mary participated in numerous shows where he displayed his refurbished antique fire alarm equipment, another joy of his life.
When it is all said, who was the real Ray? He was unforgettable. With a twinkle in his eye and a beaming smile, he loved a joke, a cold beer or a dry Manhattan. He loved strawberries and really loved strawberry shortcake. Black licorice was his favorite. And, yes, he was a Democrat. Could be impatient, but we all overlooked that minor detail. Didn't use his directional nor wore a seat belt until he HAD to. He was all about doing the right thing. He was a true friend and always a champion for the working man/woman. He cherished his family and many friends. Spending time with his granddaughter Eliza was a joy for him. Singing together was their number one activity. But there's one detail to always remember: he was the most beautiful baby born on July 22, 1924.
In keeping with Ray's love of life, possibly you would consider performing a random act of kindness in his memory.
His funeral will be held on Monday September 19, 2016 from the W. RAYMOND WATSON FUNERAL HOME, 350 Willett Avenue, Riverside at 8:45 a.m. with a Mass of Christian Burial in the Carmelite Monastery, 25 Watson Avenue, Barrington at 10 a.m. Burial with Military Honors will follow in St. Francis Cemetery, Pawtucket.
Calling hours are Sunday 4-7 p.m. Flowers are respectfully omitted. Contributions in Ray's memory to the Carmelite Monastery, 25 Watson Avenue, Barrington, RI, 02806 would be deeply appreciated.