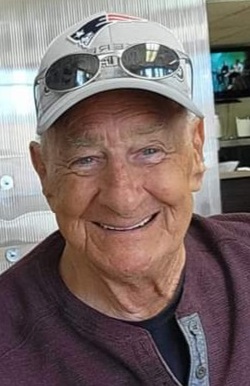 Date of Passing:
November 8, 2023
Oldrid, Richard E., 91, of Colony Road, Riverside, died peacefully on November 8, 2023 at home surrounded by his loving family. He was the beloved husband for 57 years to the late Patricia A. (Vassett) Oldrid.
Born in Pawtucket, a son of the late Norman and Alma (Harbeck) Oldrid, he lived in Riverside for 30 years.
Mr. Oldrid was a store a manger for the former First National Supermarket for 30 years before managing Cumberland Farms where he retired in his 80's.
Richard enjoyed bowling, golfing, traveling, spending time by the water and gathering with his family and friends
Mr. Oldrid was a United States Army Veteran.
He is survived by three children, Patricia Hanson of East Providence, Richard E. Oldrid Jr. of Fairhaven, MA and Mindy Corrigan and her husband Rob Connors of East Providence; a sister, Jacqueline Massie of FL.; four grandchildren and three great-grandchildren and his devoted dog Tillie.
His Funeral Service will be held on Sunday November 12, 2023 in the W. Raymond Watson Funeral Home, 350 Willett Avenue, Riverside at 5 p.m. Calling Hours are Sunday 3-5 p.m.
A Private Burial will be held in Mount Calvary Cemetery, Cumberland.