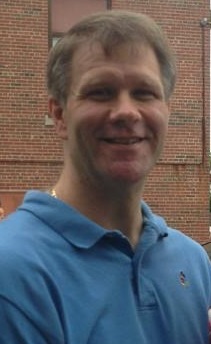 Date of Passing:
April 28, 2021
Harvey, Richard Scott, 54, of Grant Avenue, Riverside, RI, died unexpectedly on April 28, 2021 at the Upstate Medical Center, Syracuse, NY, surrounded virtually by his loving family. He was the beloved husband of Kirsten (Brown) Harvey.
Born in Media, PA, a son of John C. Harvey of Utica, NY and the late Marie (Negosh) Harvey, he lived in Riverside, RI for 23 years.
Mr. Harvey was a Scout Executive for the Boy Scouts of America for 30 years. He also was a Customer Service Representative for Bank of America, Whitesboro, NY.
Scott was a graduate of Wilkes-Barre College.
Mr. Harvey was an Eagle Scout and a member of the National Eagle Scout Association and the Order of the Arrow. He received a Veterans Award for 37 years of service from the Boy Scouts of America. He enjoyed photography, music, playing the guitar and spending time at the beach with his family.
Scott had a strong sense of humor and laughter.
Besides his wife of 27 years and his father, he is survived by two daughters, Corinne S. Harvey of Scarborough, ME and Cassandra H. Harvey of Riverside and several nieces and nephews. He was the brother of the late Christopher J. Harvey.
A Celebration of his Life will be held in the W. RAYMOND WATSON FUNERAL HOME, 350 Willett Avenue, Riverside, RI on Saturday June 12, 2021 at 12 noon. Calling hours are Saturday morning 11 a.m.- 12 noon. Flowers are respectfully omitted. Contribution's in Scott's memory to the American Red Cross, www.redcrossblood.org would be deeply appreciated.