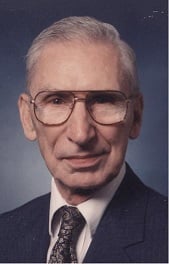 Date of Passing:
June 24, 2013
Argentieri, Robert, K., 92, of Merritt Road, a lawyer for 45 years before retiring in 1992, died peacefully on June 24, 2013. He was the husband of the late Phyllis L. (Lewis) Argentieri. They were married for 54 years.
Born in Providence, a son of the late Joseph and Elinor (Brodeur) Agentieri, he lived in East Providence for 61 years.
Mr. Argentieri was a graduate of Classical High School Class of 1940. He then graduated from Rhode Island State College (URI) Class of 1944 with High Honors where he was a speaker at his graduation. He was a member of The National Honors Society, Phi Kappa Phi and was selected to be included in the Who's Who In American Universities and Colleges.
Robert was awarded a scholarship to Harvard University Law School in 1944 and graduated in the Class of 1947. In 1948 he was appointed Assistant Legal Counsel to the Unemployment Compensation Board and later became General Counsel. In 1958 he left for private practice in Providence. From 1960-1976 he taught Business Law and Accounting at Providence College as a special lecturer. During World War II he was a Price Specialist with the Office of Price Administration.
Mr. Argentieri was a life communicant of the Cathedral of SS. Peter and Paul, Providence where he was a 60 year member of the Peloquin Chorale. He also was a communicant of Our Lady of Loreto Church where he was a Trustee for 40 years. He also was a communicant of St. Martha Church.
Upon his retirement he wintered in Boca Raton, FL, where he was a member of Our Lady of Lourdes Church and was a hospice volunteer.
He is survived by two sons; Paul L. Argentieri of San Diego, CA and Steven L. Argentieri and his wife Janice of East Providence, a daughter; Jane C. Argentieri of Exeter and Englewood, FL and proud grandfather of; Amanda Argentieri of Raynham, MA and Steven R. Argentieri and his wife Sue of Stoughton, MA. He was the brother of the late Doris Campanella.
His funeral will be held on Saturday June 29, 2013 from the W. RAYMOND WATSON FUNERAL HOME, 350 Willett Avenue, Riverside at 8:30 am with a Mass of Christian Burial in the Cathedral of SS. Peter and Paul, Cathedral Square, Providence at 10 am. Burial will follow in Gate of Heaven Cemetery.
Calling hours are Friday 4-8 pm. Flowers are respectfully omitted. Contributions in Robert's memory to the Cathedral of SS. Peter and Paul, 30 Fenner Street, Providence, RI, 02903 would be deeply appreciated.