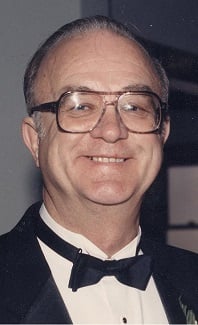 Date of Passing:
July 29, 2013
Murtha, Robert, M., 86, of Glenfield Road, died unexpectedly on Monday July 29, 2013. He was the husband of the late Mary Elizabeth (O'Shea) Murtha.
Born in Boston, MA, a son of the late Thomas and Mary Jane (McDonough) Murtha, he grew up in Dorchester, MA and lived in Barrington for 37 years.
Mr. Murtha was an oil salesman for the former Northeast Petroleum Corp. for 30 years before retiring in 1992.
Robert was a communicant of St. Luke Church. He was an active member of the Barrington Senior Center Foreign Policy Great Discussion Group. He was an avid sailor, fishermen and chess player. He enjoyed reading and studying world history and politics and always listened to others' opinions. He had a great sense of humor and also enjoyed telling stories no matter how many times the story was told. He was a man of integrity and faith concerned about fairness and equality. His family was most important in shaping his life.
Mr. Murtha was a United States Navy Veteran serving during World War II.
He is survived by two daughters; Elizabeth M.O. Murtha of Barrington and Claire H. Murtha of Fort Worth, TX, a son; Hugh J. Murtha of Wilton, CT, a daughter-in-law; Donna M. Murtha-DiMeo of North Kingstown, a sister; Winifred Donovan of Scituate, MA and seven loving grandchildren. He was the father of the late Robert J. Murtha and brother of the late Claire Henkel, Sabina Fitzpatrick, Joseph and Thomas Murtha.
His funeral will be held on Friday August 2, 2013 from the W. RAYMOND WATSON FUNERAL HOME, 350 Willett Avenue, Riverside at 8:45 am with a Mass of Christian Burial in St. Luke Church, Washington Road, Barrington at 10 am. Burial will follow in Forest Chapel Cemetery, Nayatt Road, Barrington. Calling hours are Thursday 4-7 pm.