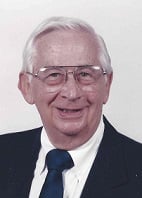 Date of Passing:
March 12, 2017
Lange, Robert R., 92, died suddenly on Sunday March 12, 2017 in the country of Dominica while on a cruise of the Caribbean. Originally from North Providence, RI, Bob lived since 1977 in Atlanta GA. He was the beloved husband of the late Mary Prendergast Lange. He was the second of four children of the late Robert R. Lange Sr., and Marie (Luft) Lange.
Bob worked for decades in the plastics industry, continuing to work in sales of machinery for the plastics industry into his 90s. He enjoyed watching his beloved grandsons Connor and Jacob grow and flourish and was a frequent spectator at youth baseball games and high school choir performances. Daily exercise was part of his routine, and most days he would be at the local YMCA at 5:30 am. He enjoyed music and dancing and was in great demand as a ballroom dance partner in his 80s and 90s. He retained a lifelong joy in traveling to new places and meeting new people. In 2012 he renewed his passport for another 10 years, optimistic that he would fill it.
He is survived by son Bryan J. Lange, daughter-in-law Holli H. Lange, grandsons Connor and Jacob Lange of Marietta, GA, daughter Dr. Julie R. Lange of Baltimore, MD, sister Dorothy L. Schofield of North Providence RI, and numerous nieces and nephews. He was the brother of the late Elisabeth L. Kispert and Stanley M. Lange.
His funeral service will be held on Saturday April 1, 2017 in the W. RAYMOND WATSON FUENRAL HOME, 350 Willett Avenue, Riverside at 11 a.m. Burial will follow in Mt. Saint Mary Cemetery, Pawtucket.
Calling hours will be held on Saturday morning 10 a.m.- 11 a.m. In lieu of flowers please donate to the Bayside YMCA, 70 West Street, Barrington, RI, 02806 would be deeply appreciated.