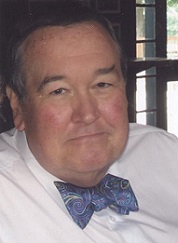 Date of Passing:
September 28, 2014
Robert W. Ragsdale, of Riverside, devoted husband of Rosemarie (Ludovico) Ragsdale, born in Jersey City, N.J. the son of Dorise Cook Ragsdale and Leonard G. Ragsdale, passed away on September 28, 2014.
Bob was a Certified Public Accountant. He received his Bachelor's degree from St. Peter's University in Jersey City, N.J., his Master's degree from Fairleigh Dickinson University, Rutherford, N.J. and became a CPA in Rhode Island where he has been in practice for over 30 years. He loved his work, was an avid reader with a great thirst for knowledge, enjoyed golfing with his friends and loved his canine companions, 'Matty' and 'Scotty' (aka 'The boys')
Bob was also a Professor of Accounting at Johnson & Wales University for 19 years, retiring this past January. He was an Advisor to the Delta Sigma Phi Fraternity at Johnson & Wales. He helped establish their first outreach program'the annual golf tournament, now in its eighth year, to benefit ALS. He never stopped learning and he loved teaching and sharing that knowledge with his students and colleagues.
Bob was raised in the Lutheran faith, having received his sacraments from his beloved Bethany Lutheran Church, Jersey City, N.J. He was a parishioner of Holy Angels Church in Barrington for the past 28 years.
He leaves his sister, Sharon Dorise Potter (and husband David), his nephew, James Cook (and wife Gailmarie) his nephew, Thaddeus Potter, his niece, Kathryn Potter and his great-nephew, Lucas Cook, all of Hockessin, DE.
His funeral will be held on Thursday October 2, 2014 from the W. RAYMOND WATSON FUNERAL HOME, 350 Willett Avenue, Riverside at 8:45 a.m. with a Mass of Christian Burial in Holy Angels Church, Maple Avenue, Barrington at 10 a.m.
Calling hours are Wednesday 4-8 p.m. In lieu of flowers, donations may be made in Bob's honor to the ALS Assocation of R.I., 2915 Post Road, Warwick, RI, 02886 or the RISPCA, 186 Amaral St., East Providence, R.I., 02915 would be deeply appreciated.