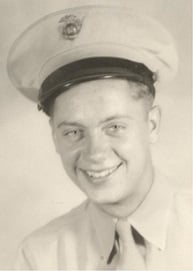 Date of Passing:
May 7, 2013
Duprat, Roger, A., 88, of Argyle Avenue, Riverside, formerly of Barrington and Westport, MA, died peacefully on May 7, 2013.
Born in Boston, MA, the only son of the late Athanase Duprat and Viola Cummings Duprat, he grew up in Willamansett, MA. He is survived by his wife, Rose Teahan Duprat; his daughter, Paula Duprat and her husband George Ostler of Sharon, VT; daughter, Roberta Kern and her husband Thomas Kern of Riverside, RI; daughter Laura Carleu and her husband Gregory Carleu of Fayston, VT; and his six grandchildren, Nicholas Duprat Kern, Thomas Roger Kern, Anthony Duprat Ostler, Alexandra Rose Ostler, Olivia Rose Carleu and Lillian Jean Carleu.
Roger entered the US Marine Corps at age 18 and fought for our country in WW II. He was a plank owner of the USS Wisconsin where he served in the Pacific Theater until the war ended. He married Rose Teahan on Sept 4, 1948. They were married for 64 years. Roger attended Northeastern University. Roger and Rose moved to RI and raised their 3 daughters in Barrington RI. Roger had a long career in the insurance industry in RI where he was highly regarded by his colleagues. They built their retirement home in Westport MA, where they spent over 20 years enjoying the ocean, golfing at the Acoaxet Club, and hosting family and friends. One of his greatest joys was spending time with his grandchildren. After he and Rose lovingly cared for their elderly parents he served as a hospice volunteer.
Relatives and friends are invited to attend a Mass of Christian Burial on Monday May 13, 2013 in St. Luke Church, Washington Road, Barrington at 11 am. Burial will be private in Forest Chapel Cemetery. Calling hours and flowers are respectfully omitted. Contributions in Roger's memory to St. Elizabeth Manor, 1 Dawn Hill Road, Bristol, RI, 02809 or Beacon Hospice, 1 Catamore Blvd., East Providence, RI, 02914 would be deeply appreciated.