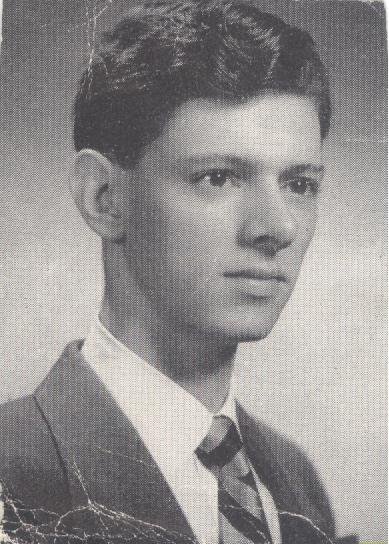 Date of Passing:
July 6, 2021
Ronald R. M. St. Onge, 87, of Douglas Pike, Smithfield, died peacefully on July 6, 2021 at the Golden Crest Nursing Home, North Providence.
Ron was born to J.R. Edwards St. Onge and Eva (Cabral) St. Onge in 1933. He was the elder brother of the late Edward (Teddy), Jeanne Mae (McNulty/Carter) and Kenneth St. Onge.
He grew up in Riverside and graduated with honors in 1951 from East Providence High School. That fall he entered RICE now Rhode Island College. As a freshman he was initiated into the men's educational fraternity Phi Delta Kappa. Ron studied languages and social studies. He participated in chorus, operetta, was the interim director of the opera class and in his senior year he was business manager of the yearbook.
In his junior year he was initiated into Kapa Delta Pi, the national honor society in education.
The next fall he graduated 3rd in his class and went on scholarship to Clark University in Worcester for his Master's degree. Upon returning to Rhode Island he taught briefly at the college.
During his 20s and 30s he was studying opera for tenor voice with Glory Perethian of Pawtucket and Herta Sperberoh New York City. When she first heard him in her studio she told him he would be singing in the opera within 2 years.
Through her connections with the Metropolitan she arranged an audition with two members of the opera company which took place in Providence. He was accompanied on piano by his friend professor Cal Tillotson. Ron sang 2 challenging selections, the 1st Aria in the Barber of Seville and the 1st Aria in Cavalleria Rusticana. The Met offered him a position in the young artist studio for further training, but considering the unstable future of young artists, he chose to stay in education.
In the Town of Smithfield, then Superintendent Laperch offered him a position at what was then Smithfield Memorial Junior High School. The position consisted of teaching one year of 8th grade English and 7 years of 9th grade French, Latin and Ancient History.
When the new Smithfield High School opened Ron was the first teacher assigned there. He was made chairman of the foreign language department, a position he held for 24 years. During this time he was strengthening his background with Spanish courses at Salve Regina University and URI, French and Italian, also at URI, and at Columbia University he studied French, also Latin at Providence College.
In addition to speaking Spanish and French, he also spoke some Italian and Portuguese and had a travelers knowledge of German learned from an Austrian friend.
During the following years he taught at varying levels of French, Latin and Spanish. He occasionally taught evening courses for adults, and was a cooperation teacher for Rhode Island College. He became involved with the local teachers organization SEA becoming president in 1956. In which position he was able to unify SEA with NEA, resulting in the new name National Education Association.
Ron oversaw the installation of the school's first language laboratory and began a program for students to research foreign recipes to create them and bring them to class to share with each other on a designated meal day.
During April vacations he took small groups of students to Europe and installed them in a host City to absorb the living language and customs for 2 days, followed by an extensive motor coach tour of historical and important places. Some of the places visited were Columbus's tomb and the valley of the fallen in Northern Spain and in France, Mount St. Michael and the Chateau country.
These spectacular trips ended with a dip in the warm waters of Torremolinis in Southern Spain or Cannes in France, followed by return to the capital and the flight home. His own travels included most of the Caribbean Islands, Mexico, parts of South America, Western and Central Europe, Scandinavia, Greece and Egypt.
He retired in 1988 and spent time enjoying opera, shows and cooking. Especially his famous seafood chowder eagerly awaited by his friends and family during 25 years of New Year's Eve parties. He also spent time caring for and assisting elderly relatives and many pets. He was an animal lover and owned many for over 70 years.
He is survived by his beloved niece Pamela Reis and her husband Paul of East Providence and Jennifer McNulty of East Providence and Rae Beland of Smithfield, a nephew, Michael R. McNulty Sr. of Seekonk, MA, cousins, Diane Murphy and Robert Geremia of Florida and Michael Geremia and his wife Shirley of North Carolina, dear friends, Steven Jennings, Edmund Nava and Ann Ferri all of Rhode Island, Jim and Bonnie Aubuchom of Florida and dearest friend and caretaker, Kevin A. Nutini.
His funeral service will be held on Wednesday July 14, 2021 in the W. RAYMOND WATSON FUNERAL HOME, 350 Willett Avenue, Riverside at 12 noon. Burial will follow in Gate of Heaven Cemetery. Calling hours are Tuesday 5-7 p.m. Flowers are respectfully omitted.