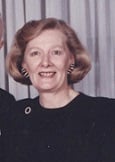 Date of Passing:
April 6, 2016
Deasy, Rosalind, J. (Gibbs), 81, of Fales Street, Riverside, died peacefully on April 6, 2016 after a brief illness. She was the beloved wife of the late Professor Richard M. Deasy for 49 years.
Born on July 13, 1934 in Providence, a daughter of the late Edward V. and Louise A. (Fitzpatrick) Gibbs, sister of the late Louise A. Deasy and the late Suzanne C. Cronin, she lived in Riverside for 53 years.
She is survived by three sons, Dr. John E. Deasy and his wife Patricia (Nassaney) Deasy of Los Angeles, CA, Richard M. Deasy Jr. and his wife Randy (St. Louis) Deasy of Singapore and Edward G. Deasy of Jackson Heights, NY; a daughter, Rosalind G.Deasy of Albuquerque, NM; five grandchildren, Elizabeth Kimmelman, Patrick and his wife Haruna (Saito), Emily, Lauren and Kelly; great grandchild, Eloise; sister-in-law, Anne (Melker) Deasy; brother-in-law, Dr. Robert J. Cronin; seven nephews and one niece.
After graduating from St. Sebastian School (1948), St. Mary Academy-Bay View (1952) and Rhode Island College of Education (1956) she embarked on a teaching career spanning over 30 years, in the Providence and Marshfield, MA schools, along with many years as a full time caregiver to her mother, her husband and other family members.
A devote Roman Catholic, she was actively involved in many activities at St. Brendan Church, including teaching Catechism and as a teacher at St. Brendan School.
Relatives and friends are invited to attend a Mass of Christian Burial on Monday April 11, 2016 in St. Brendan Church, Turner Avenue, Riverside at 10:30 a.m. Burial will follow in St. Francis Cemetery, Pawtucket. Calling hours and flowers are respectfully omitted. Contributions in Rosalind's memory to the Global Catholic Network, E.W.T.N., 5817 Old Leeds Road, Irondale, AL, 35210 or Rhode Island Right to Life, www.rirtl.org would be deeply appreciated.