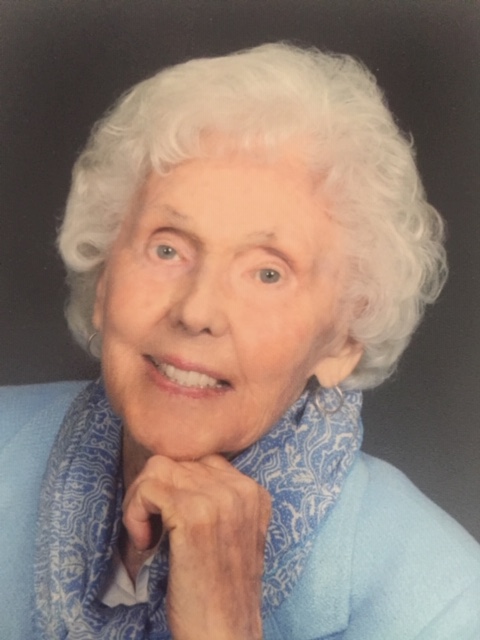 Date of Passing:
October 14, 2018
Ruth E. McCarthy, passed away peacefully in her Sunrise of Cohasset MA Residence on October 14, 2018. Ruth, the daughter of the late Harriet (Sainsbury) and Patrick T. Halton, the sister of the late Ellen Reardon and Marion Stanhope, was born in Riverside R.I. on August 21, 1919. She was predeceased by her beloved husband Francis X. "Pete" McCarthy, daughter Ellen McCarthy, and grandson Robert Hultz.
Mrs. McCarthy graduated from East Providence High School in 1937, Rhode Island College of Education in 1941 and taught fourth grade in Riverside from 1941 to 1942 when she was required to resign because of her marriage to Pete. She resumed her teaching career in 1963 in East Providence, RI, where she enthusiastically taught 3rd and 4th grades until 1981. Ruth was a life member of EPRTA, RIEA, and the Blackstone Valley RI ARC. A communicant of St. Margaret's Church in Rumford since 1948, Ruth served many years as a Eucharistic minister. Ruth will be remembered as a dedicated teacher, avid reader, enthusiastic gardener, skillful knitter and seamstress. Her kind heart, cheerful smile, and positive outlook on life inspired those who knew her.
Ruth is survived by her daughters, Patricia Jacquart, Gail McCarthy. and Ann Maitland, eight grandchildren, and nine great grandchildren.
Family and friends are invited to gather at the entry of St. Margaret Church, Rumford, RI, on Saturday November 3, 2018 at 10:00 am. A Mass of Christian Burial will be celebrated at 10:30 am. Burial will follow in Gate of Heaven Cemetery. Calling hours and flowers are respectfully omitted. Contributions in Ruth's Memory to the ARC of Blackstone Valley, 500 Prospect Street, Pawtucket, RI 02860, would be deeply appreciated.