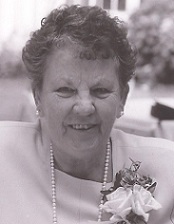 Date of Passing:
September 26, 2014
Spaight, Ruth, N., 81, of Melrose Avenue, Barrington, died peacefully on September 26, 2014. She was the wife of the late Leo W. Spaight.
Born in North Attleboro, MA, a daughter of the late William and Harriett (Lund) White, she lived in Barrington for 49 years.
Mrs. Spaight was a member of the Hameho Garden Club. She enjoyed gardening, playing tennis and spending time with her loving grandchildren. She was a devoted Boston Red Sox fan.
She is survived by a daughter, Deborah A. Spaight of Westerly; two sons, James E. Spaight of Barrington and Robert J. Spaight and his wife Kimberly M. Spaight of Barrington; a brother, Roland White of Swansea, MA and two grandchildren. She was the sister of the late William White and Lawrence 'Bud' White.
Her funeral service will be held on Friday October 3, 2014 in the W. RAYMOND WATSON FUNERAL HOME, 350 Willett Avenue, Riverside at 11 a.m. Calling hours are Thursday 5-8 p.m.