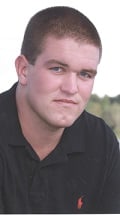 Date of Passing:
May 19, 2017
Chrupcala, Samuel E., 26, of Barrington, fought a hard and brave fight against PTSD and alcoholism. Despite a valiant effort, his battle proved to be more than his body could handle. It is important to his family that those who love him and called him friend know that he never gave up and that Sam fought this fight to the very end.
Sam proudly served in Afghanistan with the 2/6 Marines Weapons Company. He loved football and played hard for Barrington High School.
Sam is the son of John and Sandy Chrupcala, the brother of Elle and Maddie. Sam is the grandson of Gene and Dodie McCarron and Jean and the late Ted Chrupcala. He leaves behind many aunts, uncles, cousins and his dog, Romeo.
A Mass of Christian Burial will be held at 10 a.m. on Saturday May 27, 2017 in Holy Angels Church, 341 Maple Avenue, Barrington. In lieu of flowers, donations in Sam's memory to the Raider Project or LCpl Janos V. Lutz Live to Tell Foundation would be appreciated. Sam believed in these organizations and was an active supporter.