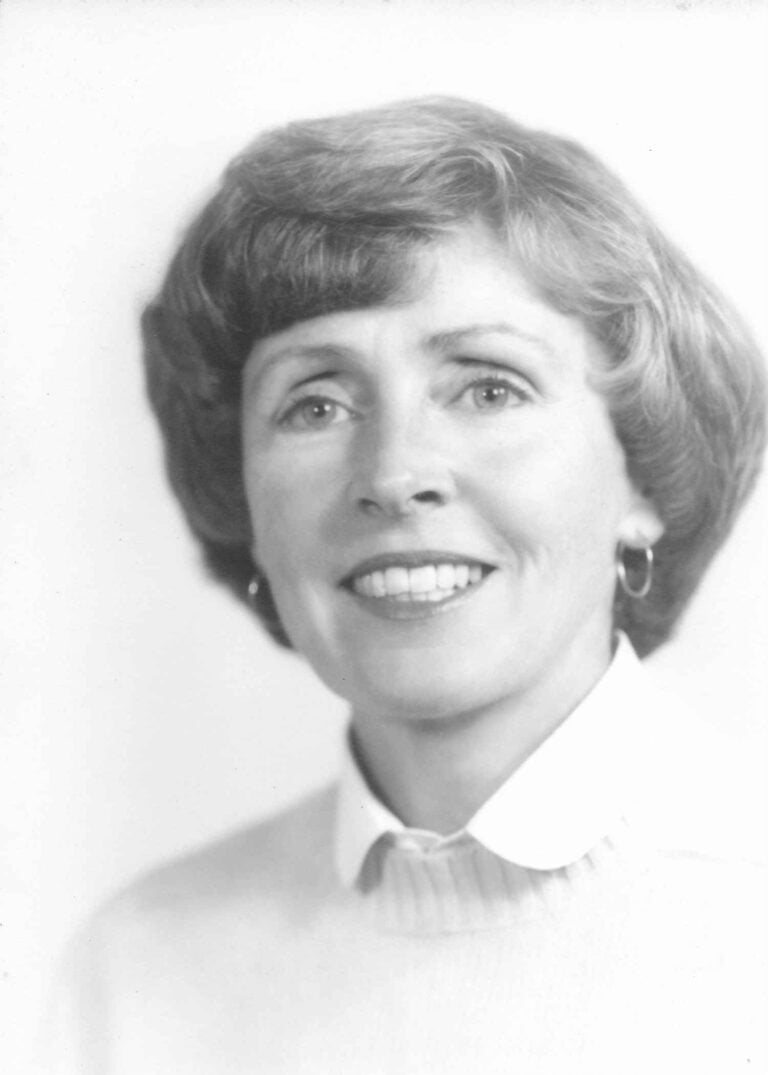 Date of Passing:
January 18, 2021
Sarah Snelling Powers passed away peacefully on Monday, January 18 at the age of 88, having lived a remarkable life. A private memorial service will be planned later this year when conditions permit.
Sarah was born June 15, 1932 in West Hartford, CT, the third of four children born to Dr. Pinkney Snelling, a prominent physician, and Sarah Clapham Smith (Johnston) Snelling. She is pre-deceased by her siblings, Matilda S Smith, Madeleine S Sinclair, and Christopher P Snelling. She grew up in West Hartford, attending The Chaffee School and The University of Connecticut where she attended the School of Nursing. It was while at the Chaffee School that she met and fell in love with her future husband, William Rowland Powers III. Family lore says the beautiful Sarah Snelling met the handsome Bill Powers while ice skating one winter night. It was love at first sight.
The first few years of their marriage were spent in Cambridge, MA and Charlottesville, VA while Bill completed school. During that time, they had three children, Chris, Billy, and Sally. Though Bill was very occupied with school, Sarah managed the growing brood and their active social life. Once school was behind them, Sarah and Bill moved to Barrington, RI in 1960. They set down roots on Rumstick Point in an unheated former barn located within what had been since the 1920's the Powers Family compound. As the story goes, Sarah used to put the kids to bed in their snowsuits and check their noses at night to make sure they weren't frozen. Three more children soon followed- Janet, Donald, and Rebecca- as did some heat for the barn. Despite having had 6 kids in the span of 8 years, Sarah found time to be an avid golfer with her wonderful group of friends, play a mean game of paddle tennis with Bill and their enthusiastic cohort of paddle buddies, and make a spaghetti dish that was famous in the neighborhood. Kids would lobby for an invite to dinner at the Powers' on the nights that spaghetti was served. For the family of 8, Sarah was the emotional rock, the safe harbor, and the source of unwavering love and support. She gave all of herself in whatever way they needed of her. And as her children grew to adulthood and had families of their own, she became a treasured friend and confidant to all.
When Sarah's youngest children were still in school, she founded the Stock Exchange with two longtime friends. They built the consignment store into an enormous success and it was a fixture on Maple Avenue for 20 years. The Stock Exchange developed a passionate and loyal clientele and became a meeting place as much as a business, and regulars would eagerly stop by every few days to see what was new. Over the years it developed a well-deserved reputation and drew dealers from all over southern New England. Bill and the kids and grandkids always took great pride in the fact that Sarah was a founder and owner of the Stock Exchange.
Sarah sold the Stock Exchange and in the mid-90's she and Bill retired to a home in New London, NH that they had designed and built with their architect son, Donald. What followed were happy years filled with golf, gardening, book clubs, classes at Dartmouth and volunteering. Sarah developed a close-knit group of dear friends who adored and supported one another, and who helped her through the loss of Bill in an accident in 1998. For her 15 grandchildren, trips to visit Gramma were highlights in the year. When they arrived, she always had cakes baked, a cookie jar filled with Oreos, dinner in the oven, and sleds at the ready. Whether it was taking winter walks through the woods, fun projects in Grampy's workshop, or little treats bought for all the kids, Sarah had a gift for making family visits feel like holidays, and holidays feel like magic.
Her move back to Barrington came in 2011 as she was beginning to deal with the Alzheimer's disease that ultimately stole her memory and her health. Her last years were spent at Atria Bay Spring in Barrington, RI under the daily, loving care of her devoted daughter, Janet.
Hers was truly a life well-lived.
Sarah is survived by 4 of her children, Sarah (Powers) Frese and husband Cal of Lake Forest, Illinois; Janet C Powers of Barrington, RI; Donald W Powers and wife Dana of Jamestown, RI; and Rebecca R Powers of Delray Beach, FL; along with 15 grandchildren and 4 (soon to be 5) great grandchildren. Her sons Christopher Johnston Powers (Peggy), and William Fuller Powers both predeceased her.
Donations in Sarah's memory may be made to The Fells Historic Estate and Gardens in Newbury, NH https://thefells.org/ to which she was a devoted volunteer during her New Hampshire years.