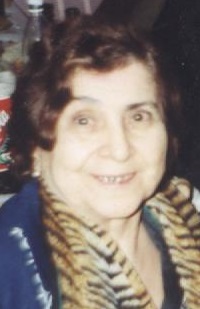 Date of Passing:
September 19, 2019
Bagdasarova, Seda K., 87, of Elizabeth Street, Riverside, died peacefully on September 19, 2019 surrounded by her loving family. She was the wife of the late Vladimir M. Bagdasarov.
Born in Baku, Azerbaijan, she was the daughter of the late Kristopher and Vartue Vartanov, she lived in Riverside for 23 years.
Seda enjoyed spending time with her loving family.
She is survived by a daughter, Arminda V. Bagdasarova of Riverside; a son, Michael Bagdasarov of East Providence; three grandchildren and two great grandchildren.
Her funeral service will be held on Monday September 23, 2019 in the W. RAYMOND WATSON FUNERAL HOME, 350 Willett Avenue, Riverside at 10:30 a.m. Burial will follow in North Burial Cemetery, Providence. Calling hours are Monday morning 9 a.m.- 10:30 a.m.