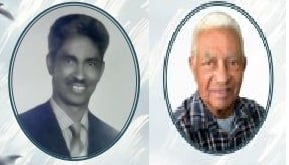 Date of Passing:
January 30, 2022
Silvestre Fortes "Bete," 96, of Weeden Street, Pawtucket, Rhode Island died peacefully at home surrounded by his loving family on Sunday, January 30, 2022. He was the beloved husband of Isabel (DeBarros) Fortes; they were married for 65 years.
Mr. Fortes was born in Brava, Cape Verde, a son of the late Manuel and Louisa (Rodrigues) Fortes. Bete spent his early years in Cape Verde working as a mason until 1977, when he immigrated to the United States with his wife. Once in the United States, they settled in Pawtucket and worked to bring all their children from Cape Verde to join them. He was a long-time employee of International Packing Company in Pawtucket, for whom he worked until retirement.
Bete was a known family man and everyone who knew him would say he was a devoted husband, a wonderful father and a great grandfather. There was nothing he enjoyed more than spending time with his family. He had a special relationship with each and every one of his children, as well as his nephew Moses, who was like another son to him. Bete enjoyed fishing and was also an avid sports fan who especially enjoyed Boxing, Wrestling and Soccer. He was an easy-going man who never had a mean word to say about anyone. He was respected and loved by all and will be missed by his family and friends.
Besides his wife he leaves five sons: Manuel Fortes, David Fortes, John Fortes, Silvestre Fortes, Jr. and Robert Fortes; four daughters: Elisa Monteiro, Jacinta Monteiro Maria Fortes and Mariana Fortes; nineteen grandchildren: Joshua, Sandra, Stephanie, Diana, Johnny, Johnna, Jayden, Anayra, Mariah, Robert, Lilly, Dailyn, Danesha, Jenny Monteiro, Johnason Cardozo, Elijah and Janinha Prestly, Shanice and Damien Martins; six great-grandchildren: Javin Monteiro, Edvania Periera, Isabella and Elena Monroy, Arista and Gianna Fortes.
He was the brother of the late Constancia Fortes, Bernaldina Fortes Correia, Maria Fortes de Brito, Manuel Rodrigues Fortes and Jose Fortes.
His Funeral will be held on Saturday, February 5, 2022 from the W. RAYMOND WATSON FUNERAL HOME, 350 Willett Avenue, Riverside at 7:30 AM with a Mass of Christian Burial in St.Martha's Church, Pawtucket Avenue, East Providence at 9 AM. Burial will follow in Gate Of Heaven Cemetery, East Providence. Calling hours are Friday 5-8 PM.