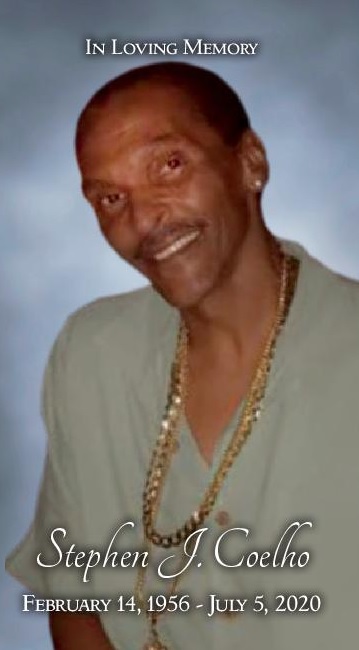 Date of Passing:
July 5, 2020
Stephen J. Coelho, 64, of Brigham Street, Providence, died peacefully Sunday, July 5, 2020 at Rhode Island Hospital, Providence with his cousin by his side.
Born in Providence, he was the son of the late Joseph and Marie (Costa) Coelho.
After obtaining his GED, Stephen relocated to Detroit, MI, there he joined his father's Painting Company. Soon after, he opened his own window washing business in Las Vegas, NV. He later returned to RI in support of his mother, Marie, where he remained a loving and devoted son until her passing.
He enjoyed dining out, concerts, gaming, cars, and the finer things in life. But nothing was better than pampering his "partner" and man's true best friend "Ice man".
Stephen was a special person in many ways. He was kind, generous, fiercely independent and, a force to be reckoned with. He was loved and will be sorely missed.
He is survived by four daughters, Bridgette Brown, Genevieve Mendes and her husband James, Vicki Cain and Stephanie Johnson, a sister, Joie Coelho, a brother, Joseph Coelho, eight grandchildren, a special niece Cecily Coelho, a great niece and nephew, cousins, friends and his former wife Donna Heathy-Coelho. He was the father of the late Germaine Thompson.
A private funeral service will be held on Monday, July 13, 2020 in the W.RAYMOND WATSON FUNERAL HOME, 350 Willett Avenue, Riverside. Burial will follow in the Gate of Heaven Cemetery, East Providence.