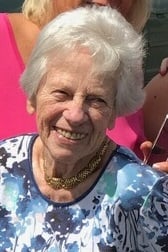 Date of Passing:
October 23, 2018
Weisberger, Sylvia B., R.N. (ret.) (Pigeon), 96, passed away on Tuesday, October 23, 2018. She was the beloved wife of Joseph R. Weisberger, the late Chief Justice of the Rhode Island Supreme Court.
Born in Providence, she was the daughter of the late Joseph A. and Juliette C. (Bachand)Pigeon, she lived in Riverside for 57 years.
Mrs. Weisberger was the holder of a bachelor's degree from Albertus Magnus College in New Haven, CT and an R.N. from Rhode Island Hospital's School of Nursing, where she later became an instructor. When she married Joe, after a long courtship due to the intervention of WWII, she had advanced her career at Rhode Island Hospital to the position of assistant director of nursing.
Sylvia was ever the supportive partner to the love of her life, Joe, who stated "with considerable emotion" in an interview with Rhode Island's historian laureate that "Sylvia has been my life's companion. She has supported me fully in everything I have ever tried to do."
Sylvia was always known as a vivacious and personable individual known for her humor, quick wit and charm. She was a member of the Board of East Shore District Nursing and the R.I Hospital Guild.
She is survived by her son, J. Robert Weisberger Jr. and his wife, Gail of Greenville, R.I; her daughter, Judith Marie Greene and her husband, Gordon of Johnston, R.I., as well as her grandchildren, Robert T. Wroblewski Jr. and his wife Ashley of Miami, FL, Anya N. Campbell and her husband Daniel of North Smithfield, RI, Joseph R. Weisberger III and his wife Katelyn of Warren, RI and Justin Z. Weisberger and his wife Marinela of Riverside, RI. She is also survived by two great grandchildren, Kaelyn and Arya Campbell. She was predeceased by her beloved daughter, Paula Ann Wroblewski.
Her funeral will be held on Monday October 29, 2018 from the W. RAYMOND WATSON FUNERAL HOME, 350 Willett Avenue, Riverside at 8:45 a.m. with a Mass of Christian Burial in St. Brendan Church, Turner Avenue, Riverside at 10 a.m. Graveside Burial will follow in Gate of Heaven Cemetery.
Calling hours are Sunday 3-6 p.m.
Flowers are respectfully omitted. Contribution's in Sylvia's memory to the Chief Justice Joseph R. Weisberger Distinguished Professor Fund at Roger Williams University School of Law, 10 Metacom Avenue, Bristol, RI. 02809 would be deeply appreciated.