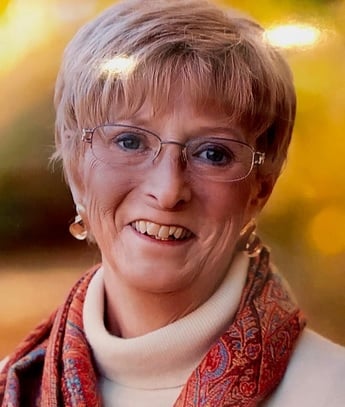 Date of Passing:
April 19, 2018
Sylvia J. (Stewart) Siket, 67, of Bullocks Point Avenue, Riverside, RI, died peacefully on April 19, 2018 at Rhode Island Hospital in Providence, RI surrounded by her loving family, after an inspirational fight with colon cancer.
She was born in Skowhegan, ME on December 20, 1950 and grew up in Hinkley, ME, the youngest child and only daughter of the late Preston and Delma (Bessey) Stewart. She attended Lawrence High School from 1965-1969, where she was active in band, chorus, and cheerleading.
She was the beloved wife of her high school sweetheart, Stephen J. Siket, whom she married on January 2, 1972. A graduate of Thomas College, she worked as a Hearings Officer for the State of Maine Department of Motor Vehicles for 38 years before retiring in 2013. She lived most of her adult life in Yarmouth, ME and was a member of The Woodlands Country Club Board of Directors, Freeport Community Chorus, and the Sacred Heart Church choir.
Besides her husband of 46 years, she is survived by a son, Matthew S. Siket and his wife Meghan of Barrington; two grandchildren, Avery and Arne Siket, both of Barrington; a brother, Keith Stewart and his wife Ann of Benton, ME and two sisters-in-law, Ellen Rice and her husband William of Fairfield, ME and Sheryl Siket of Asheville, NC. She was the sister of the late Dean Stewart and sister-in-law of the late Andrew Siket.
Sylvia's greatest joys came from being with family, especially her two wonderful grandchildren, pampering her dog Mitsy, and being an active member of her neighborhood and community.
Her most cherished hobbies included playing golf, fishing on Moosehead Lake, reading, and gardening. Her beautiful singing voice, bright smile, caring nature and uplifting spirit will forever be remembered by her many family and friends.
The family would like to thank all those who contributed to her excellent care at the Rhode Island Hospital Comprehensive Cancer Center.
Relatives and friends are invited to a Funeral Mass on Saturday May 12, 2018 at 10 a.m. in Sacred Heart Church, 326 Main Street, Yarmouth, Maine. A reception will follow immediately in the church hall. Her burial will be held at a later date in Yarmouth, ME. In lieu of flowers, family has asked that donations be made to the American Cancer Society.