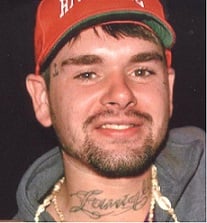 Date of Passing:
September 13, 2013
Iovino, Terrance, M., 26, of Maple Avenue, died unexpectedly on September 13, 2013.
Born in Providence, a son of Michael S. Iovino of Barrington and Susan C. Carlson of Bristol, he lived in Barrington and East Providence.
Mr. Iovino was the lead singer in the P.O.W band performing throughout the United States for many years.
Terrance was a graduate of East Providence High School Class of 2005 where he was very active in youth sports. He enjoyed music, nature and spending time with his family and friends.
Terrance was a free spirit who touched the hearts of everyone he met.
Besides his parents, he is survived by a sister; Melissa Lynne Iovino of Riverside, maternal grandmother; Carol K. (Viall) Carlson of Riverside, fraternal grandfather; Alex Iovino of Providence and several aunts and uncles. He was the grandson of the late Joseph A. Carlson and Karleen (Hulme) Iovino.
His funeral service will be held on Saturday September 21, 2013 in the W. RAYMOND WATSON FUNERAL HOME, 350 Willett Avenue, Riverside at 10 am. Burial will follow in Forest Chapel Cemetery, Nayatt Road, Barrington. Calling hours are Friday 4-8 pm.