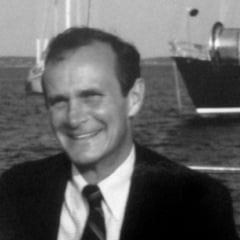 Date of Passing:
September 30, 2013
Soutter, Thomas Douglas, died on Monday, September 30, 2013 at his home in Barrington. He was 78.
Born in New York City in 1934, he graduated from Pomfret School at age 16. He earned a B.A. from the University of Virginia in 1955 and was commissioned in the U.S. Navy later that year. He married Virginia Hovenden on August 4, 1956, and moved to Coronado, California to serve on the USS Calvert. He left the Navy as a lieutenant (j.g.) in 1959, and returned with Ginny to Charlottesville. Tom was an editor of the Virginia Law Review and vice-president of the Law School, earning his law degree from the University of Virginia in 1962. For the next six years, he practiced corporate law at Breed, Abbot, and Morgan in New York before joining Textron's legal staff, and moving his young family to Barrington, in 1968. He was named Textron's general counsel soon after. He completed the Advanced Management Program at Harvard Business School in 1980, and served as Executive Vice President and General Counsel of Textron until his retirement in 1995. He was a member of the New York, Rhode Island, and United States Supreme Court bar associations.
Tom generously gave to his family, his profession, and his community. He served as an advisor to the International and Comparative Law Center, as the national chairman of alumni giving for UVa Law School, as a board member of several corporations, and as a trustee of the New England Legal Foundation, the Providence Preservation Society, and the Providence Performing Arts Center. He was a long-time supporter of the Rhode Island School of Design Museum of Art, Planned Parenthood, Dorcas Place, Save the Bay, Parkinson's research, and the Rhode Island Foundation. He enjoyed many years of sailing Narragansett Bay, Buzzards Bay, Nantucket Sound, and the coast of Maine with family and friends. He was a seasonal resident of Little Compton and Vero Beach, Florida.
In addition to Ginny, his wife of 57 years, he leaves Sam and Carline Soutter of McLean, Virginia; Andy and Maureen Soutter of Barrington; Hadley and Peter Arnold of Los Angeles; and six grandchildren: Hayley, Madeline, Emily, Christopher, Josie and Eliza.
Services will be held at St. John's Episcopal Church, Barrington, Rhode Island, on Saturday, November 2nd, at 11 am. In lieu of flowers, tributes may be made to the National Parkinson Foundation/Research,Gift Processing Center,PO Box 5018, Hagerstown, MD 21741-5018.