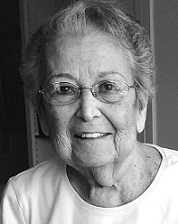 Date of Passing:
February 6, 2015
Ursula Rafferty Shea, 85, of Laurelmead in Providence died on Friday, February 6, 2015. She is survived by her husband of 65 years, retired Associate Justice of the R.I. Supreme Court Donald F. Shea.
Born in Central Falls, Ursula was the daughter of the late Henry and Sara (Sheridan) Rafferty. Formerly of Warwick, she lived for 40 years in Riverside where she raised her family.
Ursula spent her life in the service of others, and greeted all with welcoming and open arms. Ursula volunteered for Meals on Wheels, the R.I. Hospital Guild, and the Rosary and Altar Society of St. Brendan's Church. Ursula was a graduate of Holy Trinity School and St. Xavier Academy.
Ursula nurtured and adored her loving and large family. She is survived by her 5 children, Donald E. Shea and his wife Meredith of Windham, CT; Michaela Shea McInnis of Portsmouth; Christopher J. Shea and his wife Brenda of Carlsbad, CA; Sara Shea McConnell and her husband John of Providence; and Ellen Shea Reinhardt and her husband Frederick of Riverside. Ursula is survived by 11 grandchildren whom she adored and cherished: Michael & his wife Rocio, Meghan, Jessica, Catherine, Margaret, Emily, Caitlin, Julia, Stephanie, Samuel and John.
Aunt Ursula had a very special relationship with her nephews James, J. Michael, Robert, Steven & John Rock. She was the sister of the late Genevieve Rock and Robert Rafferty.
Her funeral will be held on Friday February 13, 2015 from the W. RAYMOND WATSON FUNERAL HOME, 350 Willett Ave., East Providence, RI at 8:30 a.m. with a Mass of Christian Burial at 10:00 a.m. at St. Sebastian's Church, 67 Cole Ave., Providence, RI. Burial will be in Gate of Heaven Cemetery, East Providence, RI.
Calling hours are Thursday February 12, 2015 from 3-7 p.m. In lieu of flowers, the family requests donations in Ursula's name to Sophia Academy, 582 Elmwood Ave., Providence, RI 02907.