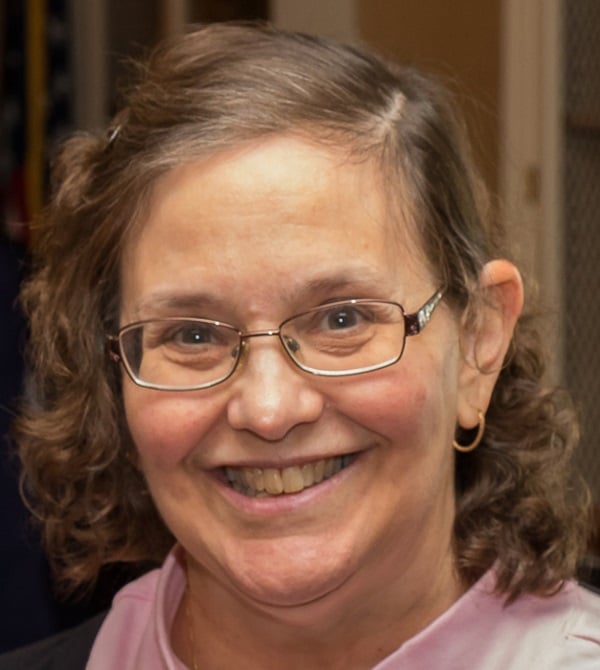 Date of Passing:
February 13, 2019
Valerie Jeanne (Gould) Anastasia, 62, of Bristol, formerly of Barrington, died peacefully Feb. 13, 2019, at Steere House in Providence after a long illness.
Known affectionately as VJ, she was the beloved wife of Charles Anastasia of Bristol for 38 years. She was actively engaged with the Rhode Island Alzheimer's Association and was the top individual fundraiser in the Newport Walk to End Alzheimer's in 2015. She was an advocate and fundraiser for the Association for Frontotemporal Degeneration (AFTD). She was featured in an awareness video, titled "VJ & Chuck" produced by AFTD which premiered at their 2017 Hope Rising fundraiser in New York City and is available on YouTube.
Born in Martinsville, VA, on Dec. 20, 1956, she was the daughter of the late Henry and Eleanor (Fanning) Gould. She graduated from high school in Kennebunk, Maine, Class of 1975, and received Bachelor of Science degrees in mathematics and industrial engineering from the University of Rhode Island, Class of 1980. She was a member of Alpha Chi Omega sorority, and served as chapter treasurer as a student at URI and as AXO House Corporation treasurer for more than 20 years as an alumnus. She was also a member of the Tau Beta Pi Engineering Honor Society.
She was an active member of St. Luke's Church in Barrington, where she sang in the choir for more than 15 years, including Christmas and Easter cantatas. She was a former member of the parish council, and was co-recipient of St Luke's annual Stewardship Award in 2011. A lifelong volunteer, she also served as treasurer for Barrington Boy Scout Troop 6, family math & science coordinator at Sowams School, and treasurer of Barrington Junior Women's Club.
She started her career as an industrial engineer for Lutron Electronics in Coopersberg, PA, and then worked as an industrial engineer for Codex Corporation in Mansfield, MA. After her children were in school, she joined the finance department at Bristol Community College. She was a valued employee and enjoyed a productive career at the college for more than 15 years. She loved working at the college.
She enjoyed reading, baking, sewing and jigsaw puzzles. She will be remembered as a faithful, gentle and optimistic person with a kind and loving personality and a brilliant smile. She loved spending time with family.
In addition to her husband, Charles, she leaves three children: Michael Anastasia of Billerica, MA, with his wife, Rebecca; Nicholas Anastasia of Somerville, MA; and Emily (Anastasia) Young of Nashville, TN, with her husband, Lucas Young. She leaves two grandchildren. She was the sister of Richard Gould of Solon, OH, with his wife, Susan; Christopher Gould of Charlottesville, VA., with his wife, Kathleen Schwartz; David Gould of Winterport, ME, with his wife, Anne; and Elizabeth Gould of Lexington, MA, with her husband, Leigh Sherwood; and also leaves 12 nieces and nephews.
Family and friends are invited to attend a Mass of Christian Burial at St. Luke's Church, 108 Washington Road, Barrington on Monday, Feb. 18 at noon. Visiting hours will be AFTER the Mass on Monday, Feb. 18 from 4:30 to 7 pm at W. Raymond Watson Funeral Home 350 Willet Avenue, Riverside. A private burial will be held at a later date.
In lieu of flowers, donations to The Association for Frontotemporal Degeneration would be deeply appreciated.