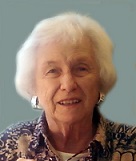 Date of Passing:
March 3, 2016
Sevigny, Vivian, M., (Shea), of Barrington, passed away on March 3, 2016. She was the daughter of the late William R. Shea and Rebecca Taylor (Couturier) Shea. She was the wife of the late, Omer E. Sevigny. Born in Providence, Vivian was a lifelong resident of Barrington, RI and a communicant of St. Luke's Parish for 60 years.
Mrs. Sevigny attended RISD and was active in the Art World. She received several awards in Watercolor Painting and Printmaking. She was a member of the Providence Art Club and a past member of the RI Watercolor Society, the Cape Cod Art Association, and the Bristol Art Museum.
Vivian volunteered for FISH, now known as Tap-In, a volunteer organization for East Bay RI persons in need. She also served as a Eucharistic minister for St. Luke's Church for 21 years.
Vivian and her family were avid skiers and spent many winters in Rangeley, Maine. After the skis were put away, Vivian and her husband Omer became enthusiastic golfers. Gardening and baking were also among her favorite pastimes.
She is survived by two sons, Glen R. Sevigny, Wayne E. Sevigny, his wife Beth, and two grandchildren, Tao Sevigny and Kylie Sevigny.
A Mass of Christian Burial will be held at 10:00 a.m. on Tuesday, March 8, 2016 at St. Luke's Church, 108 Washington Rd. Barrington. Burial will follow in Princes Hill Cemetery, County Road, Barrington. Calling hours and flowers are respectfully omitted. Donations in Vivian's memory can be made to Tap-In – 281 County Rd, Barrington, RI 02806 and St. Luke's Church 108 Washington Road, Barrington, RI, 02806 would be deeply appreciated. Arrangements are under the direction of the W. RAYMOND WATSON FUNERAL HOME, Riverside.