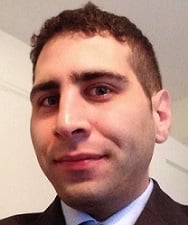 Date of Passing:
February 1, 2015
Waiih Naji Mazloum of New Orleans, LA, died February 1, 2015, at the age of 28. Wajih was a second year law student at Tulane University, where he served as a student attorney and research assistant in the university's Environmental Clinic.
Wajih was born March 2, 1986, in Tripoli, Lebanon, to Naji Mazloum and Marilene Melhem Mazloum. Shortly after, the family immigrated to the United States. He attended the Gordon School, the Wheeler School, and Barrington high School, and graduated in 2003. Following his graduation, Wajih studied abroad in Paris.
A graduate of American University, Wajih received both a Bachelor's of Science in Finance and a Bachelor's of Arts in Law and Society in 2008. He obtained a Master's of Business Administration at University of Rhode Island in 2010, before accepting a position as a financial analyst from Schlumberger in Dubai.
He is survived by his parents, Dr. Naji Mazloum and Marilene Melhem Mazloum, a civil engineer, of Barrington, R.I.; one brother, Hanni Mazloum, a mechanical engineer; paternal grandmother, Ezzat Mazloum; maternal grandfather, Michel Melhem; aunts and uncles, Theo Melhem and wife, Hannie, of Paris, France; Joe Melhem and wife, Tania, of Paris; Carol Moufarrej and husband, Marwan, of Dubai, UAE; Dr. Bassem Mazloum and wife, Tracy, of San Antonio, TX; and Soha Mazloum Hamdi and husband, Talal, of Tripoli, Lebanon; cousins, Vanessa Melhem, Jennifer Melhem, Michel Melhem, Agathe Melhem, Souhiel Mouffarej, Mira Mouffarej, Mira Hamdi, Karim Hamdi, Maya Hamdi, Bryce Mazloum and Miles Mazloum.
He was preceeded in death by his maternal grandmother, Odette Melhem, and his paternal grandfather for whom he was named, Wagih Mazloum.
Wajih was a loving son, unconditional in his friendships, and a savior of homeless kittens.
At Tulane, Wajih was at the happiest time of his life, elated to be fulfilling his long term dream of becoming a lawyer.
He performed tremendous public service to the city of New Orleans, as a lawyer in training.
He will be remembered for his quick wit, sense of humor, a kind and generous heart, that helped friends in need, during their life crises.
He had the rare gift of connecting with people, befriending them, and supporting them in their troubled moments.
Calling hours will be held for him on Wednesday 11-Feb-2015 in the W. Raymond Watson Funeral Home, 350 Willett Ave, Riverside, RI from 5-8 PM. A Memorial service will be held at Manning Chapel on Brown University grounds on Thursday 12-Feb-2015 at 10:30 AM followed by burial at Forest Chapel Cemetery on Nayatt Rd, Barrington RI. In Lieu of flowers, the family suggests memorial donations to Providence Animal Rescue League online or to Whitmarsh Group Home PO Box 72832 in Providence, RI 02907.