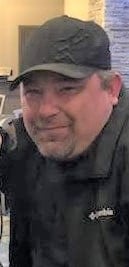 Date of Passing:
February 9, 2021
Wesley J. Ricci, 43, of Riverside, died unexpectedly on February 9, 2021 at Miriam Hospital in Providence of complications unrelated to Covid.
Born in Providence, a son of the late Joseph S. and Patricia A.(Cuthill) Ricci.
Mr. Ricci was the owner and operator of the W. Ricci Asphalt Services, a family owned business.
Wesley enjoyed boating, fishing, camping and spending time with his friends.
He is survived by a sister, Gina Wallace and her husband William Scott Wallace of Riverside; a nephew, Colby J. Wallace of Riverside; a step-mother, Phyllis Martino of Washington; several aunts, uncles, cousins and friends and his devoted dog, Jersey.
His funeral service will be private. A Celebration of his Life will be held when those who loved him can gather safely.