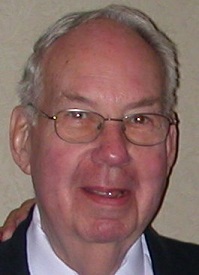 Date of Passing:
July 26, 2013
Mackinnon, William, N., 89, of Barrington, died Friday, July 26, following a lengthy struggle with cancer.
He was almost completely finished with his World War II memoirs when his body, not his mind, failed him. The memoirs, 'L.A.R.S. from 2700', recall his time as a gunner on an M3 howitzer with the 407th 'C' Cannon Co., part of the 102nd Infantry Division that fought in Germany. And yes, the memoirs will be published, probably in e-book format. ('L.A.R.S. From 2700' is based on an acronym that he was taught to use to accurately aim a howitzer.)
He was born Aug. 31, 1923, in Brockton, Mass., the only child of the late Harry E. and Grace L. Mackinnon. His parents instilled in him a lifelong love of classical music. He graduated in 1941 from Brockton High School, where he learned to speak and write German, and was in his freshman year at Brown University when the Japanese bombed Pearl Harbor. He joined the 'Enlisted Reserve Corps' at Brown in 1942 and then was called to active duty.
He qualified for the Army Specialized Training Program and told he would become an engineer. But the ASTP was disbanded and he joined the Ninth Army's 102nd Infantry, also known as the Ozarks. He entered battle in Germany for the first time in October 1944. He took part in a 2,000 artillery piece attack on Feb. 23, 1945, to open the Allies' 'Operation Grenade' major offensive to cross the Roer River and push the Germans back.
When he returned stateside, he took advantage of the GI Bill and re-entered Brown. He became president of Theta Delta Chi fraternity. He graduated in 1948 and his first job, with Chase Bank, involved him moving to Germany for five years before returning to the U.S. to live in New York City.
His career took him on trips to Russia, India, Mexico, Europe as well as around the United States. While living in New Jersey, he went to night school and got an M.B.A. from Rutgers University. He worked for Warner Lambert, Standard Brands and TWA. He joined Textron Inc. in 1968 in Providence, R.I., and retired in 1986 as director, international finance. He then took up a second career that lasted 21 years as a volunteer with the Rhode Island chapter of the Service Corps of Retired Executives, or SCORE.
He coached Barrington Little League and Barrington Youth Hockey. He enjoyed going to reunions of the 102nd Infantry Division Association held around the nation. He and friends from the division returned several times to Europe to visit battlefields there.
Three years ago he was honored as grand marshal of the 32nd annual Fourth of July parade on Clarke Road in Barrington.
He was happy that he lived long enough to see the Boston Red Sox win not one, but two, World Series, that he witnessed the Boston Bruins hoist the Stanley Cup and that his beloved New York Giants won Super Bowl titles as well. (He rooted for the New England Patriots, too.)
He avidly read fiction and nonfiction, particularly enjoying biographies of his hero, Winston Churchill. He counted genealogy among his hobbies. He liked to savor the occasional single malt scotch whisky or a nice dry Rob Roy and often reminded people that the recipe for the liqueur Drambuie was given many, many years ago to a Mackinnon on the Isle of Skye in Scotland.
He met his wife, Alice, on a blind date at the Hotel Taft in New York City. Besides his wife, he is survived by three children, James, of Cuyahoga Falls, Ohio; William Jr. (Julie), of Franklin, Mass.; and Jane, of Barrington; grandchildren Christopher and Isabella; and nieces and nephews.
Relatives and friends are invited to attend calling hours in the W. RAYMOND WATSON FUNERAL HOME, 350 Willett Avenue, Riverside on Monday July 29, 2013 from 4-8 pm. Flowers are respectfully omitted. Contributions in William's memory to The American Cancer Society, 931 Jefferson Blvd., Warwick, RI, 02886 would be deeply appreciated.