William Z. (Bill) Malinowski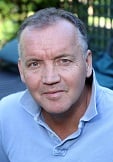 Date of Passing:
August 11, 2016
Malinowski, William Zachary (Bill), 57, of Barrington, died peacefully August 11th at his home.
Born on August 20, 1958, in Norwich, CT, he was the son of the late Mieczyslaw Malinowski and the late Josephine Malinowski.
After graduating from Connecticut College in 1981, where he played varsity basketball, he went on to earn a Master's Degree from Medill School of Journalism at Northwestern University in 1983. He joined the Providence Journal in 1985 where he was a reporter for more than 30 years.
The New England Society of Newspaper Editors honoredMalinowski with a Master Reporter award in 2014. He also received the society's 2014 Sevellon Brown New England Journalist of the Year award for his work on 'The Cost of a Bullet', a series examining the costs of gun violence.
Malinowski is survived by his wife, former Journal photographer Mary Murphy; his daughter, Molly Malinowski; his sister, Marsha Malinowski; his brother, Paul Malinowski, and his half-sister, Bronislawa Szalecka.
His funeral will be held on Tuesday August 16, 2016 from the W. RAYMOND WATSON FUNERAL HOME, 350 Willett Avenue, Riverside at 8:45 a.m. with a Mass of Christian Burial in St. Luke Church, Washington Road, Barrington at 10 a.m. Burial will follow in Forest Chapel Cemetery, Nayatt Road, Barrington.
Calling hours are Monday 4-7 p.m. In lieu of flowers, donations can be made to the ALS Association, RI Chapter, 2374 Post Road, Suite #103, Warwick, RI, 02886 and the Institute for the Study and Practice of Nonviolence, 265 Oxford Street, Providence, RI, 02905.